The Ain Shams International Center for the Study of Pathophysiology of Pregnancy and Fetus. C.S.P.P.

In 1996 in Cairo, Egypt and after several years of preparatory work the African Society of Organisation Gestosis (ASOG, see Link 25 ) was founded. And in its wake
Prof. Hamdi EI Kabarity

Established in 2001 the
Ain Shams International Center for the Study of Pathophysiology of Pregnancy and fetus
C.S.P.P.
www.gestosis.netfirms.com

This instution is offerin 9 post graduate courses in the field of ΕΡΗ -Gestosis. Its aim is to spread correct knowledge on ΕΡΗ -Gestosis, ist definitions, nomenclature and classifications as well as in management. It also includes the training in conditions of high risk pregnancies e.g. diabetes mellitus, and anemias in pregnancy etc.

The program of this institute is devided ίπ three periods.

1. Phase
2001 -2004
Spread knowledge
Offer educational courses and training for primary health care to
medical
personel

like Medical Doctors
Registered Nurses
Midwives
Social Workers
Traditional Birth Attendants

So far two courses have been completed and an attendance of
250 participants
from different parts of Egypt

2. Phase
2005 -2009
Educational training courses of one to three months duration for
Middle East Arabian delegates
African attendants
Also other countries world wide
Its aims has been defined as training in the management of severe ΕΡΗ -Gestosis
Imminent and Convulsive Eclampsia
In Intensive Care Units,
applying the ΕΙ Kabarity modified Gestosis Index (LΙΝΚ 12)

3. Phase
2009 and after
Βy then it will be possible to obtain a post graduate diploma.
The work for this award will include
Theoretical lectures
Bedside teaching
Attendance and cooperation in IUC -management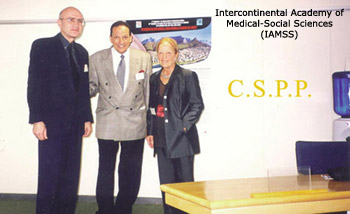 OGASH National and Regional Centers, Intercontinental OGASH Academies and Colleges will be closely connected to the Intemational Center for the Study of Pathophysiology of Pregnancy and Fetus (Cairo, Egypt).

CSPP http://www.gestosis.ge/eng/26_4.php
Scientific Program
The 12th International Congress
WOMEN: HEALTH, HAPPINESS & PROSPERITY

WOMEN: HEALTH, HAPPINESS & PROSPERITY
30th-31st May, 2007
J.W. Mariott Mirage Cairo-Egypt

President of the Congress
Honorary Academician of OGASH
Chairperson of Presidium IAMSS
Egypt OGASH Regional Subcommittee Chairman
Consultant-Professor of Intercontinental OGASH Academy CSPP
Chairman of the Ob&Gyn Dept.Ain Shams University
Prof. Mohamed N. El-Mahallawi

Secretary General of the Congress
prof. of Ob/Gyn Ain Shams University
Correspondent-Member of World OGASH Board
Egypt OGASH Regional Subcommittee Chairperson
International Expert of Oncological Gynecology
Chairperson of Interconinental OGASH Academy
PROF. MOUNIR M.F. EL-HAO MD.



[CERTIFICATE OF ELECTION]


Special Session on the Activities of OGASH
during the
12th Annual International Conference
Department of Ob/Gyn.
International Center for the Study of Pathophysiology of Pregnancy & Fetus.
Ain Shams University-Egypt

Session Chairmen:
Prof. Ernst T. Rippmann,
Prof. Hamdi EL-Kabarity,
Prof. Avtandil R. Chkheidze.

WOMEN'S REPRODUCTIVE HEALTH COURSE

COURSE DIRECTOR:
Prof .Hamdi ÅÉ Kabarity, Secretary General O.G.
Hon. Academician of OGASH
Ain Shams University, Faculty of Medicine.
Department of Obstetrics & Gynaecology
Director, International Center for the Study of Pathophysiology of Pregnancy and Fetus (CSPP)
Chairman of the section for the study of Pathophysiology of Pregnancy and Fetus of Intercontinental OGASH Academy of Medical-Social Sciences.
Winner of Ioseb Jordania Medal De Onoare
Prize-winner of HERA's GOLDEN PRIZE (HERA's GOLDEN PRIZE - 2005/2006, click here)
Prize-winner of Prof. Ioseb Jordania International Prize - 2007
Winner of Ernst Theodor Rippman Medal De Onoare
E-mail: elkabarity@hotmail.com
www.gestosis.netfirms.com





AWARDED PARTICIPANTS
AWARDED LECTURERS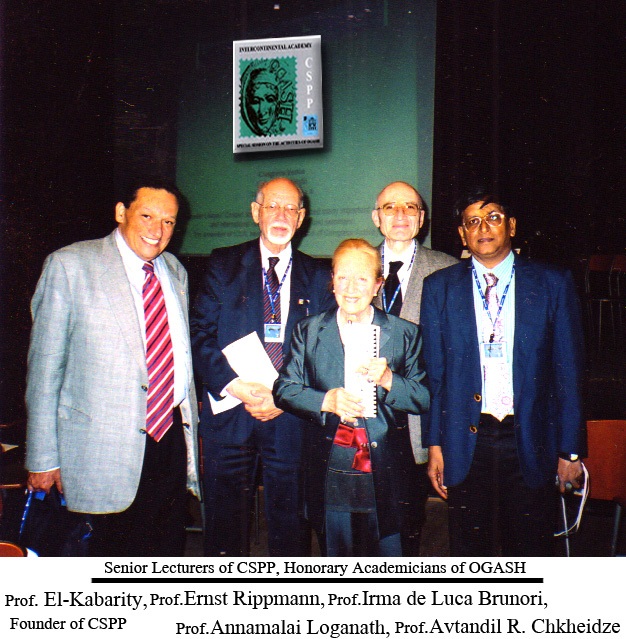 The Egyptian Group Of Organization Gestosis & OGASH Supporters (EGOOS)
CSPP LIBRARY